Chapter 8: After the Saxons: The Ettons of Gilling
The Normans
When the land of the Saxon earls was confiscated after the Conquest it would appear that Orm's property was acquired by, or granted to, Ralph de Mortimer; and Barch's by Hugh FitzBaldric.
Let us first deal with Ralph de Mortimer. He was the only son of Roger, who derived his surname from Mortemer en Lions in the Pays de Caux, between Neufchatel and Aumale in France. Ralph de Mortimer died in his castle of St. Victor-en-Caux on 5 August 1100 (or 1104) and was buried in the Abbey church there. He left two sons, Hugh and William; and a daughter, Hawise, who became the wife of Stephen, Earl of Albemarle and Holderness. Hugh's descendants became the Earls of March; William died childless. The family seems to have no recorded connection with Gilling, except for a later reference (in the 12th century) when Peter de Ros, who was linked with the Mortimers by marriage, gave two carucates of land to St. Mary's Abbey, York. It is likely that this land so granted was Orm's, which had probably come into the Ros family by marriage. The Ros family also had land of Ralph de Mortimer's in Whenmore. In the 12th century the land was in the possession of the Mowbrays and the Stutevilles.
Before we follow the fortunes of Orm's land let us follow what is known about Barch's portion. As we have already seen, it was granted to Hugh FitzBaldric (i.e. Hugh the son of Baldric). It is not known which Norman family he came from, if indeed he was Norman. It has been stated that he was a German archer in the service of William the Conqueror. However, before 1067 he "witnessed a charter of Gerald, granting the Nuns of St. Amand in Rouen the church of his fief of Roumare". Immediately after the capture of York by William in September 1069, Hugh FitzBaldric appears to have been made Sheriff of the County of York by the King. He fell into trouble by supporting Robert Duke of Normandy against William and presumably lost his lands. However, nothing more is heard of him.
Ivo de Vescy

Reverting to the Mowbrays' land (i.e. that which was originally Orm's): the first positive figure to emerge from the mists of time is Ivo de Vescy, who was a tenant of the Mowbrays elsewhere. Perhaps one could infer that the Mowbrays had obtained possession of both manors by now. Ivo de Vescy granted two carucates of land to St. Mary's Abbey, York, and his son-in-law and then heir Eustace Fitzjohn (died 1157) gave, or confirmed, to St. Mary's Abbey four carucates of land and the church with its half carucate of glebe land. There is a record of a grant in fee arms by Eustace Fitzjohn to the monks of St. Mary's Abbey of four carucates, the church, and half a carucate in 1135-1147.
It was possibly quite an astute move on the part of Eustace, as the church was reported to be in a bad state of repair after the Harrying of the North. This is of interest because although no mention of a church was made in Domesday Book it must have been there some time before for it to be in a bad state of repair. The date of 1157 is of considerable interest. Down the centre aisle of the present church adjacent to the heating duct, and on the paving stones each side of it, four mason's marks have been found. They are all the same, being a + sign with a x superimposed, giving a mark thus: S On consulting a paper in the Ryedale Historian (Volume 3, p.26), Mr Peter Svengard gives a list of 181 mason's marks found in Byland Abbey. The mark found in Gilling Church appears in five places in the Abbey ruins, on parts which are dated 1170-1225. Allowing for a little time to elapse before St. Mary's Abbey put the repair work in hand it would seem that the mason who worked in the Abbey worked on Gilling Church. A further confirmation of this is that the same mark is found both in the north transept and eastern aisle of York Minster, on work dated to the 13th century. The witnesses to Eustace Fitzjohn's gift were: Roberto de Hopitai, Waltero Capellano (chaplain), Bernardo cap, Roberto Diacono (deacon), Willelmo Fillio Cruem, Johanna Burdun. The name of Walter as chaplain does not appear on the list of Rectors of Gilling. That list starts vaguely about 1200. It may be right to include him as the first Rector of Gilling.
In 1170 there was a grant by Stephen Gizi of Gilling, made to Rievaulx Abbey, in the territory of Gilling of one perch of land in width next to Holgate on the south side, from the footpath of the church to Litehou, to have a free way there, which road they may repair as they wish.
The Harrying of the North
The Harrying of the North in 1069 had a devastating effect upon the inhabitants north of the Humber. Simon of Durham says:
It was shocking to see the houses, the streets, and highways, human carcases swarming with wirms, disolving in putridity and emitting a most horrid stench; nor were there any left alive to cover them with earth, all having perished by sword or famine, or stimulated by hunger had abandoned their native land. During the space of nine years the country lay totally uncultivated. Between York and Durham not a home was inhabited, all was a lonely wilderness, the retreat of wild beasts and robbers and the terror of travelers.
It is supposed that above 100,000 human beings perished at this time, and hence many entries in Domesday Book are described as "modo wastum est". At this time a Danish force entered the Humber and occupied York. To prevent the English helping the Danes against him, William is known to have devastated an area north and west of the City of York. Gilling might well have been included in this action.
To pass on from these troublesome times, in 1166-7 the vill belonged to Ralph and Adan Lovell. Will Surdeval granted to St. Mary's Abbey three and a half carucates of land in which he probably became under-tenant. This land was then conveyed to Geoffrey de Stuteville by Abbot Clement between 1170 and 1175. He was probably made an under-tenant as in Kirby's inquest in 1284-5 St. Mary's Abbey still owned three and a half carucates of land in Gilling.
Where all this land lay, and how much the grants overlapped, we cannot tell, as apart from the fact that it was in Gilling the position of the land is not given, as it would be on modern maps and surveys.
A feofment (no 1880) by Abbot Clement to William son of Botilda of Gilling of one bovate of land in Gilling to hold for 3/- per annum and by finding a cart with a man and oxen for the parson of Gilling to carry his grain and also by leading the tithe of his own land to the parson's barn (St. Mary's cartulary). To Botilda and heirs. This was witnessed Lascallino (capellano-chaplain), Thomas Diacano (deacon), Adam de Rotamaeo (miller), Calfrido (the carrier), Calfrido de Thornton, Calfrido Ketelby.
Early in the reign of Henry II (1154-1189) Ivo de Vescy gave two carucates of land in Gilling, and Peter de Ros another two carucates with the church, to St. Mary's Abbey, York. This seems to be the same land given by Eustace Fitzjohn mentioned previously. There was a link between the Fitzjohns and the Vescys. It may be that Fitzjohn, who was a son-in-law of the Vescys, really confirmed the two carucates and the church when he received his inheritance, and added a further two for good measure.
Thomas de Etton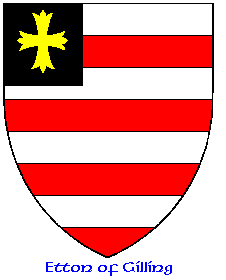 We now arrive at a period when the ownership position becomes much clearer. Gill states that a Thomas de Etton was Lord of Gilling from 1199-1216. The Ettons came from the village of Etton in the East Riding, north of Beverley. It is possible that they sprang from the Vescys. The first Etton mentioned by Gill is Galfrid de Etton who lived in 1154, though not named as Lord of Gilling. A further indication that the Ettons were linked with the Vescys can be seen in the similarities displayed in their coats-of-arms. This date of Thomas de Etton (1199-1216) takes us back to within 19 years of the death of Ralph de Mortimer, and this also implies that Thomas de Etton was already Lord of Gilling when Ivo de Vescy gave his two carucates and the church to St. Mary's Abbey as mentioned above.
Under Layersthorpe there is a charter granting one toft of land and croft, by Abbot H of Byland to Thomas de Etton. The land was situated:
at the exit of the vill of L(ayersthorpe) next to the cross and one selion in Riskhow up to Stayngryof and half an acre in the same field next to the vill ane selion in Howstholm and one selion in Milneholm and one selion in Le Berugh towards Oswaldkirk with meadow adjacent to the said land throughout the field of L(ayersthorpe).
Although no date is recorded on this charter it is probably from 1199 - 1216, when a Thomas de Etton was Lord of Gilling. The position may possibly be identified as follows:
Layersthorpe: This is, of course, the parish lying to the north of Gilling, on the north side of the Holbeck and between Oswaldkirk Bank and Stonegrave. Where the cross was is not exactly known, but on the 1856 O.S. map there is a 'stump cross' marked as being between East and West Newton.
Riskhow: Is this Ryedale?
Stayngryof: This is of course Stonegrave.
Howstholm: Is this Southholm, where the Fairfaxes held land later?
Milneholm: There is a Millholm in Layersthorpe, just on the north bank of the Holbeck between Gilling Bridge and Cawton Lane.
Le Berugh: This is a mystery to which I cannot offer any solution. Could it be Birch House at the end of Oswaldkirk Terrace? Or connected to 'Barugh' meaning 'hill'?
There is also a record of a grant by Adam de Gilling to John Rabot of Hovingham of a toft and croft in Gilling "lying at the butts of the vill towards the north, next to the toft of Thomas de Etton on the south side". (Note that "ad butto villi" might be translated as "abutting on the vill".)
William de Etton
Thomas de Etton was succeeded in 1216 by William de Etton. In 1221 a Thomas de Etton owed the King a mark for leave to summon Ingram de Cornborough (near Sheriff Hutton) and John Surdeval concerning land in Gilling. In the next record Thomas de Etton junior released to John Surdeval nine-and-a-half oxgangs of land in Gilling. This Thomas died in 1226.
How William de Etton fits into this situation is not very clear but he was still alive in 1251-2. In 1218-9 a Geoffrey de Etton, brother of Thomas de Etton junior, granted a mill in Gilling to Simon, son of William de Clifford for one pound of pepper. Also Osbert de Cornborough quitclaimed (released from a claim) to William de Etton his common pasture in William's land in Gilling with certain exceptions. William granted Osbert the services of his men for which Osbert was to pay a pair of white gloves annually. Thomas de Etton had a son, Robert, who became the founder of the Ettons of Etton. In 1251 Walter Barn plaintiff and William de Etton warrantor, took legal action concerning one toft and six acres in Gilling, and one bovate and one-and-a-half acres of meadow in Gilling, right of William. At Walter's request William grants to Robert Barn, son and heir of Walter, the toft and meadow and half an acre in the field called Brom. Walter grants that William de Etton and his heirs may hereafter enclose with dyke and hedge certain portions of their woods in the vill called Loftsco and Hardwud, and a certain assart called Moricesstoking, and also all the marsh between Durpol and Holbec as far as the old dyke to the west, and he make his profit from the said wood assart and marsh, saving to Walter common pasture in ther marsh after the hay is cut and carried.
In 1252 there is a record of legal action again between Osbert de Cornborough (Cornbrucg) and Wm de Etton, defendant, concerning common pasture claimed by Osbert in William's land of Gilling. Osbert grants all right of common pasture, saving to Osbert common pasture for 35 sheep with lambs before weaning, 10 cows with calves etc., 16 oxen and 4 horses. If William puts any goats in the pasture Osbert may put 20 goats thereon. Osbert grants all rights of estover in William's woods. Whether this is the same agreement as above, or confirmation, or a second agreement, is not clear.
Sir Ivo de Etton
In 1272 it appears that Ivo de Etton succeeded. He was knighted and thus became Sir Ivo de Etton; what he was knighted for, or when, we do not know, but he was certainly a more prominent national and local figure. He was Constable of Tikhill from 1235 to 1245 and held one knight's fee of Roger de Mowbray in Yorkshire. He held 2¾ librates of land in the wapentake of Ryedale in 1255-6. In 1284/5 he was listed as a tenant. In the same year the land of Hugh Fitzbaldric, assessed at 2½ carucates, became part of the fee of Mowbray. Is there a link here? In the same year at Kirby's inquest, St. Mary's Abbey, York held 3½ carucates in Gilling but no tenant or overlord is mentioned. In addition the Canon of Malton Priory held half a carucate.
The first mention of the size of the village was made in 1285 when it consisted of 14 cottages, 13 valued at a total of 18/- per annum and one at 8d, and a mill at 10/-. The population could have been about 100. None of these cottages now exists, but they were probably under the present estate cottages as in later years many dwellings were pulled down and rebuilt.
In 1290 the Archdeacon of Richmond summoned Sir Ivo de Etton for impounding 400 sheep at Gilling; Sir Ivo thought he had the right to do this. The jurors found that a certain field was enclosed for the people of the township from Michaelmas to Martinmas, and that the Archdeacon's shepherd had placed his sheep in the field before Martinmas and this was wrong. They therefore decided that Sir Ivo was justified in impounding the sheep.
In 1301 subsidies were levied for the conduct of the Scottish Wars and the following amounts were raised in Gilling:
"De Domino Ivone de Etton
24s-9d"
"De Waltero de Gilling
5s-2d"
"De Willelmo de Porter
9d"
"De Willelmo Bonde
4d"
"De Willelmo D
4d"
"De Ricardo C
2s-1d"
"Summa
23s-8d-0q"
...which is obviously wrong if you care to add it up! It should be 33s-5d. The levy was at the rate of one-fifteenth of the value of the man's property.
In the same year (1301) there was a dispute between William de Walton and Walter Wogan who claimed to be Rector. Wogan was ejected in 1301, so he must have lost the case. William de Walton continued as Rector until 1309, when Adam Luther was installed.
In 1307 Thomas, son of John of Wymbleton (Wombleton) was put in the stocks by Sir Ivo, and brought an action for assault. The defendant pleaded that Thomas, being a villein, had refused to perform his duty of working at the harvest, and therefore he had put him in the stocks "as he had a perfect right to do". The plaintiff, Thomas, maintained that he was a "free man of free status and condition and therefore not liable to the service in question.
In 1311 Adam Louther was soon in the "Curia Regis" (I presume Crown Court) as a plaintiff, and Lord Ivo de Etton as defendant. It was settled as follows:
"Ivo granted to Adam 1 acre of meadow in the field of Gilling lying by metes and bounds next to UMPOLE in exchange and recompense for the use of pasture etc. which the Rector used to have in the enclosures of Ivo below. Ivo also granted to Adam part of his wood in ESTKIREWYTH as it extends in length from MYHYLBERGH to the arable land of Ivo called le LITTELSTOKING, and in breadth from the road of GREOGAT to the wood called SOUTHKEREWYTH. The Rector may cut the said wood and enclose the same and hold it in severalty and he (Ivo?) is to have recompense and exchange estovers of the Rector in the woods of ESPRON, STRYKESDALE and DALBUSKYS. Ivo also grants that he shall repair and sustain the mill pond and banks of the same. Ivo also grants 2 acres 1 rood of arable in the territory of Gilling lying in 4 selions: 2 selions near the gate of the Rector towards Calveton (Cawton) and 2 selions at LONCEHOW between Walter de Gilling on both sides, in exchange for 2 acres 1 rood of arable that the Rector demised to Ivo from the land of his church....For this concession the Rector grants to Ivo that he may peacefully have his mill and the meadow adjoining lately enclosed by Ivo and hold it in severalty. Also Ivo may retain ANENHUSLEGHES and HARDEKNONTELEGHES enclosed and may also enclose with ditch, wall or hedge and place in defence and hold in severalty STRIKESDALEBUSKYS and ESPRON and all the land wood and pasture within the said boundaries, i.e. from the wall next to Ivo's bercary by the ditch and hedge under ANENLYN in length to the culture linearly up to the remoter part of ESPRON up to the south and thus from this remoter part beyond the culture of the Rector linearly which culture is called ESPRONFLATT and then from this culture by metes and bounds previously placed between Ivo and Walter de Gilling to the culture of the said Rector called SOUTHECOTFLATT and from there linearly descending beyond through the field towards the east to the field called HINBRANBERGH and thus up to the copse standing on the boundary of SERICROFT towards the west, and from the said boundary towards the north to the gardens of the vill of Gilling. The Rector also grants to Ivo that he may hold that alder grove enclosed in WESEKER next to the meadow called le HALLEENG as now enclosed and assart at his will. The Rector also grants 2 acres 1 rood of arable of the church land lying within metes and bounds of the said enclosures, which metes and bounds between Ivo and Walter de Gilling were made formerly, i.e. part of le WANDALES and part of SOUTHCOTEFLATT and the rest of the ESPRONFLATT. In exchange for the said 2 acres 1 rood of arable the Rector, for his part of the wood of SKEREWYTH remises his estovers in STRIKESDALEBUSKIES, ESPRON, and BALBUSKYS which estovers the Rector recovered against Ivo in the Royal court, saving to the Rector and his tenants, pasture in BALBUSKYS."
This most complicated document seems to be a cleaning up of the land ownership of the Church and the Lord of the Manor. It is plain that there must have been some difficulties of boundaries, and bits here were exchanged for bits there, thus straightening up the dividing lines. It is tantalising not to be able to identify the various places and fields mentioned. The only field bearing a name is Wandales, which may be Wandales to the east of Syke Gate. In 1314 Ivo de Etton granted his manor to his son Thomas. Thomas was Lord in 1316, so Ivo died soon after the transfer. St. Mary's Abbey was joint Lord of the vill in 1316 but probably only had income from land here. St. Mary's Abbey were patrons of the church at this time. The mense territory is not further recorded, the manor first being mentioned in 1314, held directly of the Mowbrays; the Abbey did not possess the advowson.

About 1310 an alliance was made with the Nevilles of Bulmer which later caused inheritance problems and troubles.

In 1314 the Rector was presented by the King, so the Crown must have had the advowson, not St. Mary's Abbey or the de Ettons.

About this time Thomas de Etton was a retainer of John of Gaunt. Other dates are:
1321

Grant by Elizabeth widow of John de Butterwick, to Peter Absolon of Calveton, of 3 acres of wood in the marsh of Gilling called Gilling Ker which lies at the head of the cultivated land belonging to Peter and are called SYWARDHOLME towards the north.

1323

There was a grant by Idonea de Ugelthorp widow of Walter Domendale of Gilling, once citizen of York, to Adam Thuthorpe, of all land and meadow, in the vill and territory of Gilling she had as a dower after the death of Walter, i.e. 1 acre next to WITHES; 1/2 acre in GRYMEFLATE and meadow in BRATESTOPKING.

1344

Grant by William de Surdeval, chaplain and Vicar of Neubald, to John de Surdeval his brother, and Walter son of his sister Alice, of all his land and meadow in Gilling which land is called GRYESFLATTE and meadow called BITESTOKYNGE.

1345

Grant by Juliana de Gilling daughter of Geoffrey, chaplain of St. Oswald, to her daughter Alice of 5 acres arable in the territory of Gilling, i.e. 3 acres in the culture of GRYMSFLATT, 1 acre in STAYNFLATT and 1 acre next to le WYTHES.

1345

Grant by Robert le Barne of Gilling to John son of Julian of Gilling of all the assart with its length and breadth from the culture called GRIMESFLATTE to his wood of HUNDESONAPE with the breadth of the said culture, which assart Robert once held at farm of the said John with the said culture and which he (Robert) assarted.

1349

Thomas de Etton began to erect the tower keep at Gilling.

1349

The sister of Thomas de Etton, Elizabeth, married Thomas Fairfax of Walton. His son and successor Thomas married his cousin Elizabeth Fairfax. This event, as it happened, sealed the future of the Gilling Estates. In the event of the Etton family failing the Gilling Estates were to be settled on members of the Fairfax family. The alliance made with the Bulmer Nevilles and this marriage caused succession troubles later, as we shall see.

1359

John de Mowbray appointed Will de Nessfield, at fee of 100 shillings and a robe yearly, keeper of his warrens and free chases at Kirby Malzeard and Niddersdale, the grant afterwards being confirmed by the King. Nessfield was certainly holding the office in 1376 when it was granted to Thomas de Etton.

1361-4

At the Yorkshire sessions of Peace the following was recorded:"Some say upon oath that a certain William Porter of Gilling in Ryedale took by theft a cow valued 10 shillings, from a man of Ulveston whose name they do not know, at Ulveston on the Saturday after the Purification of the B.V.M. in the 34th year of the king now reigning".

1374

Thomas de Etton obtained a lease to impark 1000 acres of wood at Gilling for the raising of deer.

1377

Agreement between Thomas de Etton, Lord of Gilling, and Lord Peter de Lithum, Rector of Gilling: Thomas to receive for 200 years common pasture and the Rector shall receive for his own uses a close of meadow called POTERHEYNG containing 21 acres and a place of enclosed wood called ARNALDKYRK in severalty.
Sir John de Etton
John de Etton was the son and heir of Thomas de Etton and his wife Isabel, who was the sister and heiress of John Dayvell, and widow of Richard Wilsthorp. John was knighted in 1390 and married before 1388, to Kath the younger daughter of William de Everingham and co-heir of her grandfather, Lord Everingham of Laxton in Nottinghamshire. She must have died before 1420, as John was married again, to Elizabeth who survived him. He died on 25th March 1432/3. His will was dated 1st October 1431, and proved on March 30th. His eldest son having died some time before, his four daughters were heiresses; Ivo the second son being heir male.
John de Etton held the manor of Gilling in Ryedale, which was his seat, and in addition lands at Cawton, Kirkbymoorside, Yearsley and Ravensthorpe; also in the right of his wife the manors of Kirkburn, Kipling Cotes and North Leverton. His life was a most eventful one, and a list of his high spots follows:
1390

John de Etton went to Prussia with the Earl of Derby who later became Henry IV.

1391

License was granted on 20th June for Ralph, Lord Neville, Thos Colville Etton and others to meet certain Scots to perform feats of arms against them.

1394

Robert Hilton complained that John de Etton, George de Etton and others broke into his house and close at Bainton and made off with his property.

1395

On 1st June Etton, now King's Knight, was granted the office of Steward of Galtres (Forest) for life.

1399

On 15th September Etton, his wife, her sister Joan and Joan's husband Robert Waterton, were pardoned after entering without licence the Manor of Laxton in Nottinghamshire which was their rightful inheritance through his wife (Kath).(Note: I visited Laxton in 1980 and made enquiries at the local County archives office; they knew nothing of this incident. The manor in question would be Laxton Castle, the seat of the Everingham family; it now exists only as a mound. Laxton is famous for its surviving mediaeval field system which is up to the present maintained by the D.E.)

1406-12

John de Etton was Sheriff of Yorkshire.

1406

In the same month as his appointment as Sheriff he was pardoned for outlawry occurring by not appearing when sued for debt by John Cley, citizen and draper of London.

1407

On 8th June John Neville, Lord Latimer, transferred lands and manors to John de Etton, Edmund Hastings, Henry Nessfield and John Lovell. Afterwards, however, he petitioned in chancery that the trustees had not made a grant of the reversions to him as he desired, and on February 10th 1413/4 Hastings and Nessfield together with John de Etton were commanded under pain of œ5000 not to make any alienation of Latimer's land.

1410

5th July - John de Etton's name appears in a commission of array for the North Riding. (A Commission of Array was a raising of troops: the commissioner had to arrange the recruits into foot and horse soldiers.)

1411-14

John de Etton was Member of Parliament for the county of York.

1411

2nd March - de Etton was ordered to enquire in Yorkshire about unlicensed alienation of lands held in chief.

1411

In November he again received a pardon for outlawry for not appearing to answer a plea of debt of 20 marks to John Selby, barber.

1412

November - from now until a year later he served as Sheriff of Yorkshire, and was afterwards excused payment due of œ80 as part of the form of the county.

1414

In May he again appears in a commission of array, this time for the East Riding.

1415-21

He was again Member of Parliament for the county of York.

1418

also 1419 and 1430: appeared in the commission of array for the North Riding, and the commission for Peace until his death.

1421

John de Etton's son Miles was associated with the appointment as Steward of Galtres. On his death, Ivo the second son was included.

1423

also 1427, 1429, 1430, 1432. John de Etton was represented by Wm Hornsby attorney. His widow Elizabeth was represented by John Sherburn in 1436.

1431

On 12th April John de Etton was ordered to ascertain the names of those from whom subsidy in the North Riding should be collected, with the amounts they should contribute.

1432/3

John de Etton died on 25th March.
From the above list there is no doubt that John de Etton was one of the most colourful and active characters that ever lived in Gilling Castle. Throughout his life he was fully engaged either in litigation brought by him or against him, sitting in Parliament or serving on County commissions. His eldest son Miles pre-deceased him. Miles left four daughters, but they did not succeed to the estate. The second son Ivo was settled in the tail-male in 1438 with the remainder to his father's right heirs. Ivo died without issue, and was followed by his brother Alexander, a clerk in Holy Orders, and the last of the Ettons of Gilling.
Actual relics of the Etton family are few but significant. The main one of course is the castle itself, especially the lower storey. Also there is a tomb recess bearing the de Etton arms in the south aisle of the church. Where the de Ettons were buried we do not know, but probably somewhere under the church floor. They were probably also responsible for widening the church chancel.
In 1446 Alexander de Etton exchanged the Rectory of Gilling for that of the above mentioned church of Laxton in Nottinghamshire with Thomas Tanfield of Laxton. Thomas Tanfield appears in the list of Rectors for Gilling but Alexander de Etton does not appear in the Laxton lists. This exchange suggests that the church became part of Alexander's inheritance and not being entailed had passed like the lands at Laxton to the four daughters of Miles. Thomas Tanfield probably acted as trustee.
In spite of the agreement of 1349 on the occasion of the marriage into the Fairfax family, the manor was settled on Alexander for life (it being impossible for him as a cleric to have legal children) and the remainder to Sir Thomas Neville Knt. and others and the heirs of Neville. Sir Thomas Neville, younger brother of Ralph Duke of Westmorland was a Lancastrian attainted with his son Humphrey in 1461. Sir Thomas was already dead, but his son escaped from the Tower of London, and again took up arms against the king. He was pardoned but rose again in 1464 when his kinsman the Earl of Warwick beseiged Bamborough Castle. Edward IV offered a pardon to the whole garrison with the exception of the leaders Sir Ralph Grey and Sir Humphrey Neville. Sir Ralph was captured and beheaded, but Sir Humphrey again escaped and after lying in hiding for 5 years rebelled in 1469. He was captured and beheaded in the King's presence in York.
Meanwhile the King had granted the manor of Gilling to Sir Edmund Hastings Kt., but when Sir Humphrey was pardoned in 1463 the reversion was granted. In 1467 it reverted back to Sir Edmund Hastings who held it until 1489 or 1492. On his demise the Gilling manor and estates were successfully claimed by the Fairfax family under the marriage settlement of 1349. The successful claimant was Sir Thomas Fairfax of Walton, 5th descendant from Elizabeth de Etton.
---
Forward to the Fairfax Family; back to the Saxons; return to Contents.