The Aisles
The north aisle and doorway are 14th century but the original windows were replaced in the 19th century. The square-headed west window is partly original and similar to those of the south aisle. The three windows of the south aisle are 14th century, the westernmost being much restored. The window in the west wall is modern. The south doorway is 14th century and the fine oak door is 18th century, with iron hinges. Note the corbels on the north of this aisle for supporting a previous roof.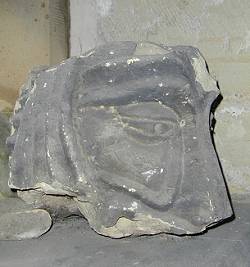 There is a carved stone face, possibly a corbel, near the old font in the south aisle.
---
Visit the Situation; Floor Plan; Nave; Chancel; Tower and Bells; Monuments; Brass; Organ; Clock; Glass; Font; Exterior; Village.

Return to the Contents.