The Village
The Old Rectory is to the east of the Church. The west end is the oldest part, and is pre-Reformation.
The row of houses in the main street, all similar, were built as estate houses. The houses were increased in height in 1910.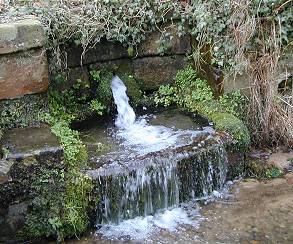 There is a spring flowing into a stone trough in the main street, just opposite the church – this is probably the village's original water supply.
The oldest buildings in the village are the Forge in Cawton Lane, and the house immediately north of the Church facing the main street.
The Castle is open to the public at specified times. The Roman Catholic Chantry (opposite the Church) was originally the village school, and then the reading room. The later school (now closed and used as a village hall) is at the end of Pottergate.
The railway station at the north end of the village still retains the platforms. It is now a private dwelling.
Photo © Adrian Smith 2000
---
Visit the Situation; Floor Plan; Nave; Aisles; Chancel; Tower and Bells; Monuments; Brass; Organ; Clock; Glass; Font; Exterior.

Return to the Contents.