The Monuments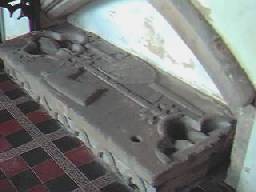 In the north-east corner of the Chancel is a rare 14th Century tomb slab of an unknown knight, set under a 14th century arch. It has been suggested that the tomb is that of the founder of the church, perhaps one of the Malbys family. It consists of a slab carved with a floriated cross pierced with a quatrefoil to reveal the feet of the deceased. The knight is wearing a bassinet and his hands are folded in prayer. On the side of the cross is a shield and sword. The shield bears three martlets or swallows. On the dexter side is the knight's helm with the crest, and the head and neck of a deer or horse (see picture below). If this is a deer the knight may be a Malbys.

Detail of shield:
on a bend 3 martlets, a bordure engrailed


Detail of tomb, showing the knight's head

Detail of ?horse or deer
However it has been further suggested that it is that of Sir Ivo de Etton, a knight-templar. There are other similar monuments at Melsonby, Brize Norton, Kingerby and Staunton.
In the wall of the south aisle is a late 14th century tomb recess. The very defaced arms on each side are those of the Etton family. The middle shield is unrecognisable.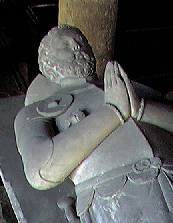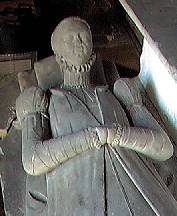 The large set of recumbent figures near the south- east arch of the nave are those of Sir Nicholas Fairfax and his two wives, Jane Palmes and Alice Harrington. He died in 1572AD and was High Sheriff of Yorkshire under Henry VIII and Elizabeth I. Some mention has been made elsewhere of a representation of the children of his first wife, but this must have disappeared when the present altar tomb was erected about 1840. The monument is probably not in its original position.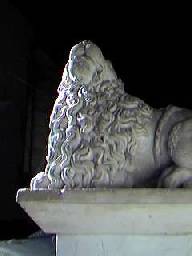 Sir Nicholas has his feet on a particularly fine stone lion (this photo was taken through the squint from the chancel).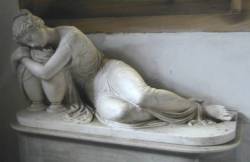 In the west end of the south aisle is a fine piece of sculpture, in white marble, consisting of a figure of Piety reclining over two urns. The work is by Gott, a famous sculptor, who lived in Rome. It is to the memory of Thomas Fairfax who died in 1828AD.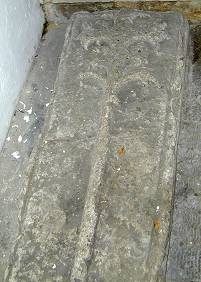 There are two deeply incised floriated crosses on coffin lids of 14th century date, deposited near the above statue. In late 2003 these were moved to between the Farifax monument and the Etton tomb recess.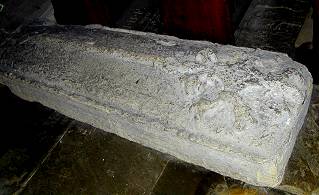 There are numerous wall monuments, mainly to the Fairfax family and past Rectors.
All photos © Gill & Adrian Smith
---
Visit the Situation; Floor Plan; Nave; Aisles; Chancel; Tower and Bells; Brass; Organ; Clock; Glass; Font; Exterior; Village.

Return to the Contents.